Many ESL teachers struggle with finding a quick way to explain, diagram, and practice the myriad grammar fundamentals in class, especially with young learners and big language barriers. This project was conceived to remedy that issue.
In my decade instructing ESL students, I learned that there's no shortage of grammar resources, but many of them tend to drag out concepts across many pages with overly-complex definitions. These resources often leave it to the teacher to parse and compress that information into a bite-size, student-friendly format.
Figuring out how to model these concepts in a consistent, reproducible way was a daily dose of stress for many years, and it was time do something for myself and my students to ease the pain that is grammar.
The initial focus was on creating basic charts for everyday elements like BE verbs (am, is, are) distinguishing between tenses. This resulted in a proprietary verb tense system that assigns a concrete color to each tense.
Green = simple tenses
Blue = Progressive tenses
Red = Perfect tenses
Blue + Red make Purple = Perfect Progressive tenses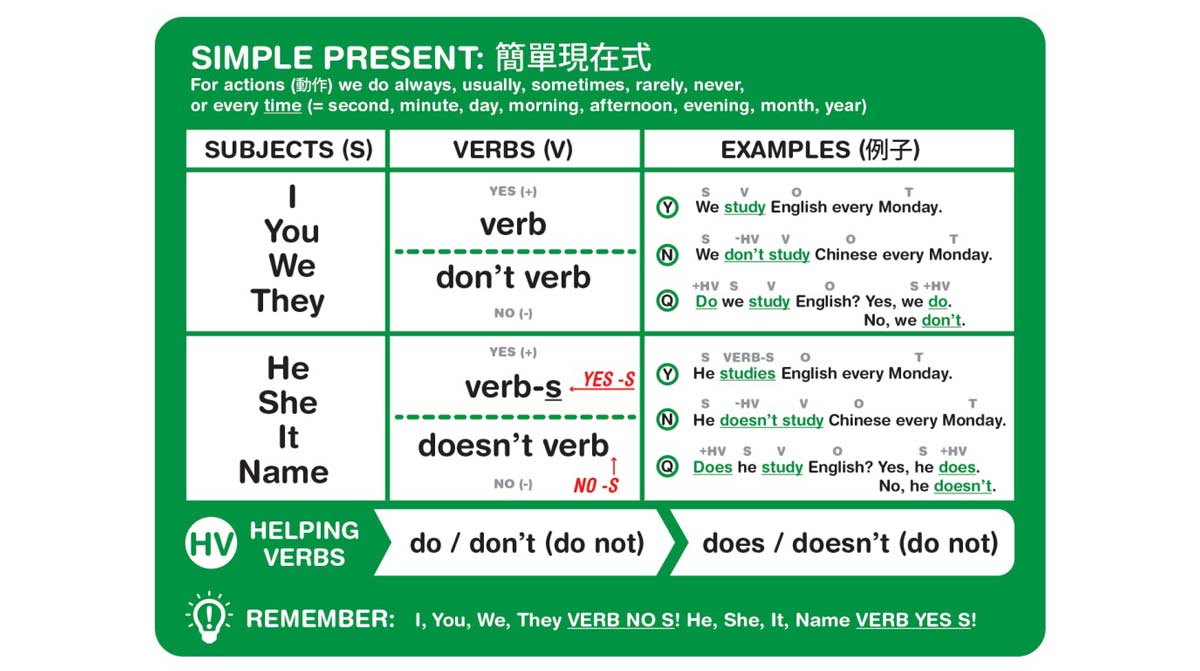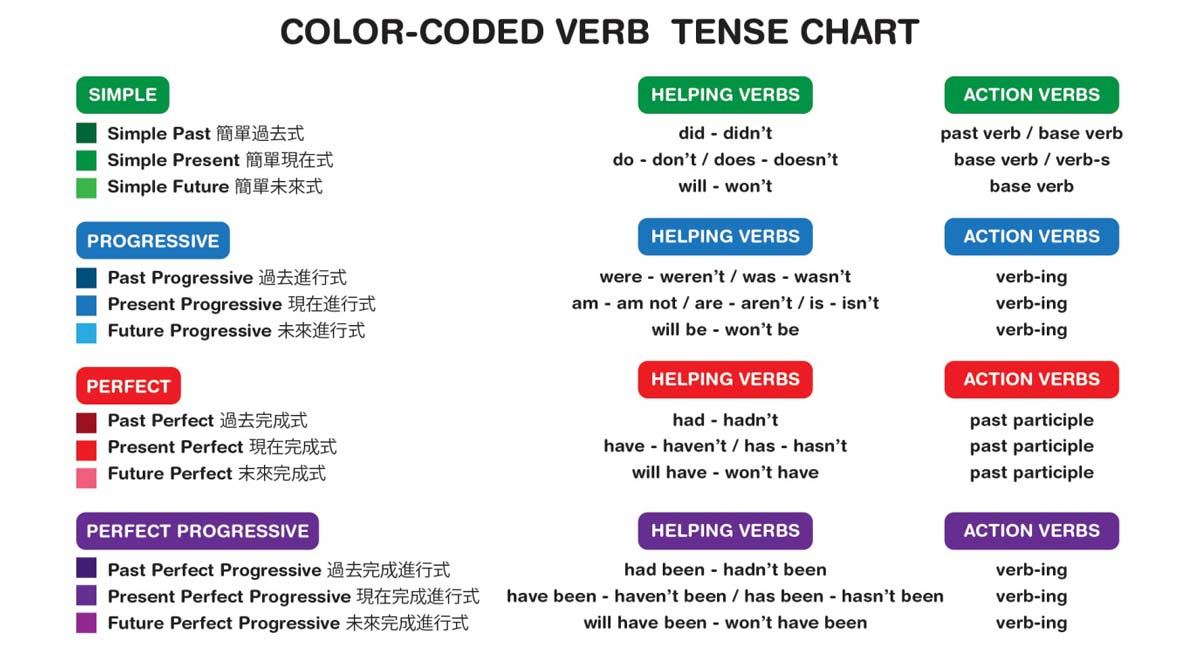 Instantly intuitive and proved effective when tested in class with my students. The landscape orientation was intended for display on screens, but worked well in print as multiple charts could be stacked on a single page.
The half page charts were useful, but sacrificed items like a timeline and more thorough sentence structuring. Expanding to use an entire page allowed for a deeper dissection.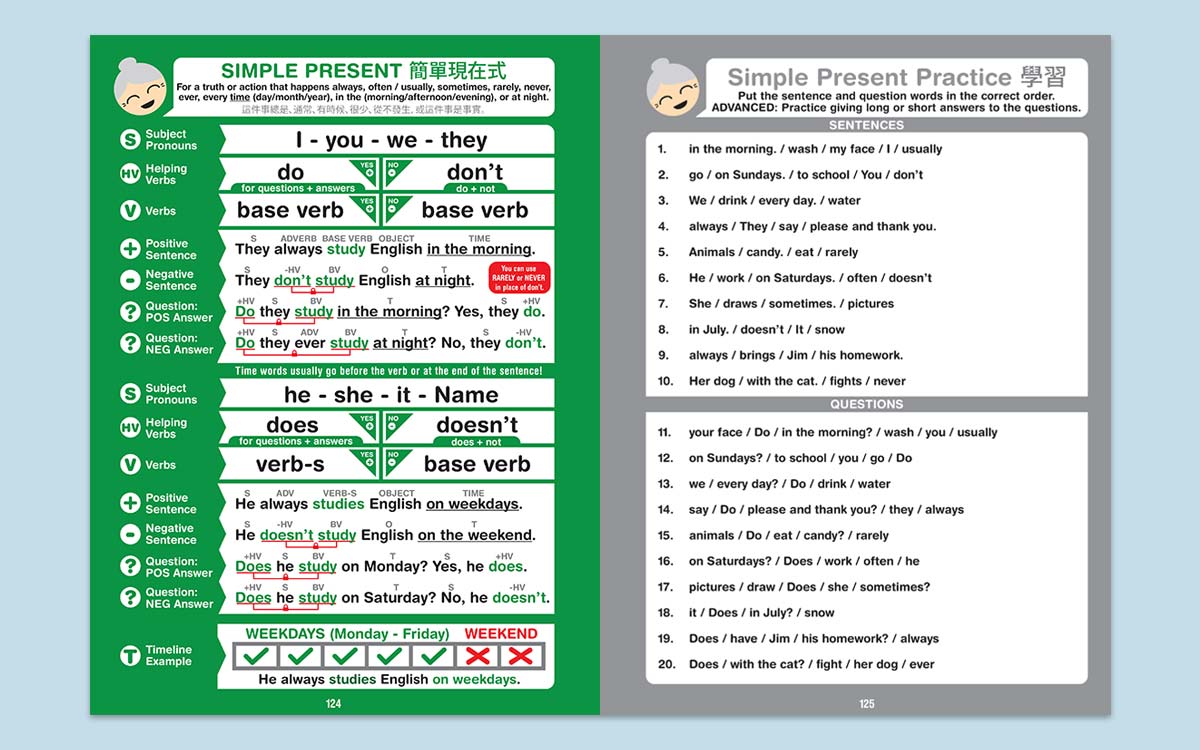 It may seem understandably overwhelming to the lay viewer, but remember we're trying to put everything needed to teach a grammar concept in one place. Each component is ready-made to be read or transferred onto the whiteboard.
The kid-friendly fonts and grammatical annotation of the sentences leave no room for error or interpretation, and the practice sentences on the facing page are highly useful for review activities.
The 1-page 1-concept potential led to dozens of elements being diagrammed. Initially it was just the most common, but since all the components of grammar are intimately linked, it grew to encompass 60 elements and 12 verb tenses in all. What started as a basic chart had turned into a 150-page book:
The "Grammar Grandma" branding was derived from the common/comical confusion that arises from the phonetic similarity between 'grammar' and 'grandma' in many ESL classrooms. Inside joke aside, grandmas are literally life's oldest teachers and revered family figures in most cultures.
Beyond being a revered source of approachable wisdom, the matriarchal mascot let herself well to the Ke-Ai aesthetic. Translated as adorable or cute, this concept is somewhat mystifying to Westerners, but is extremely pervasive throughout Asia and proved to be quite useful when making something boring or outright torturous appear a bit more friendly. Akin to getting your teeth pulled by Hello Kitty.
The liberal use of teal bares no cultural significance, but rather operates on a psychological level, blending the calm tranquility of blue with a bit of the energized optimism of green. Perfect for a classroom situation where a focused, but relaxed student is the ideal sponge.
A series of flashcards and posters were also created.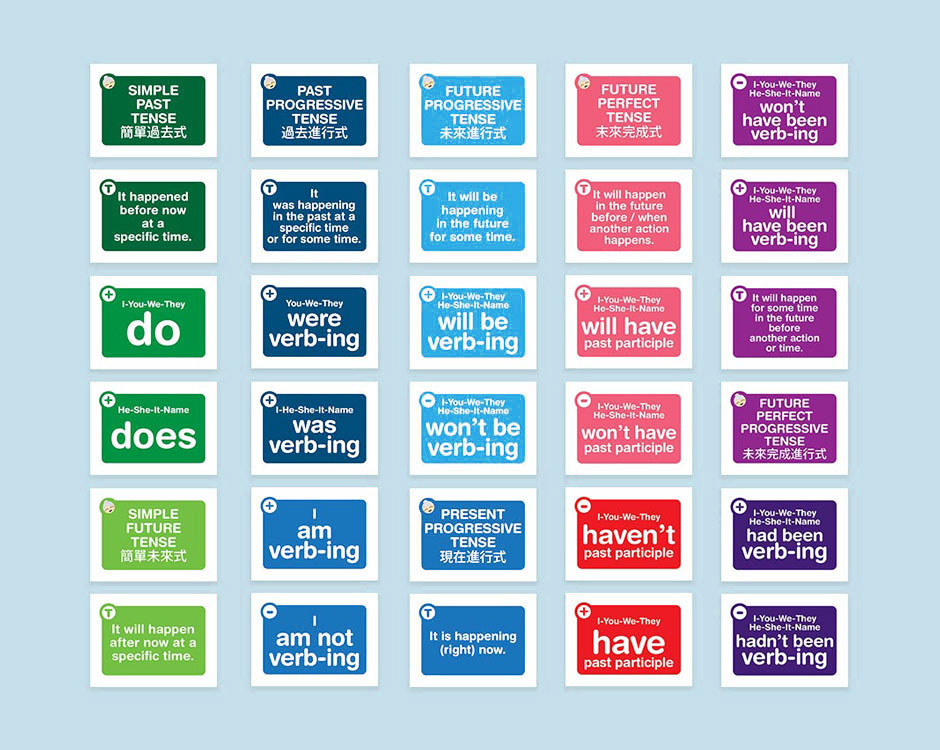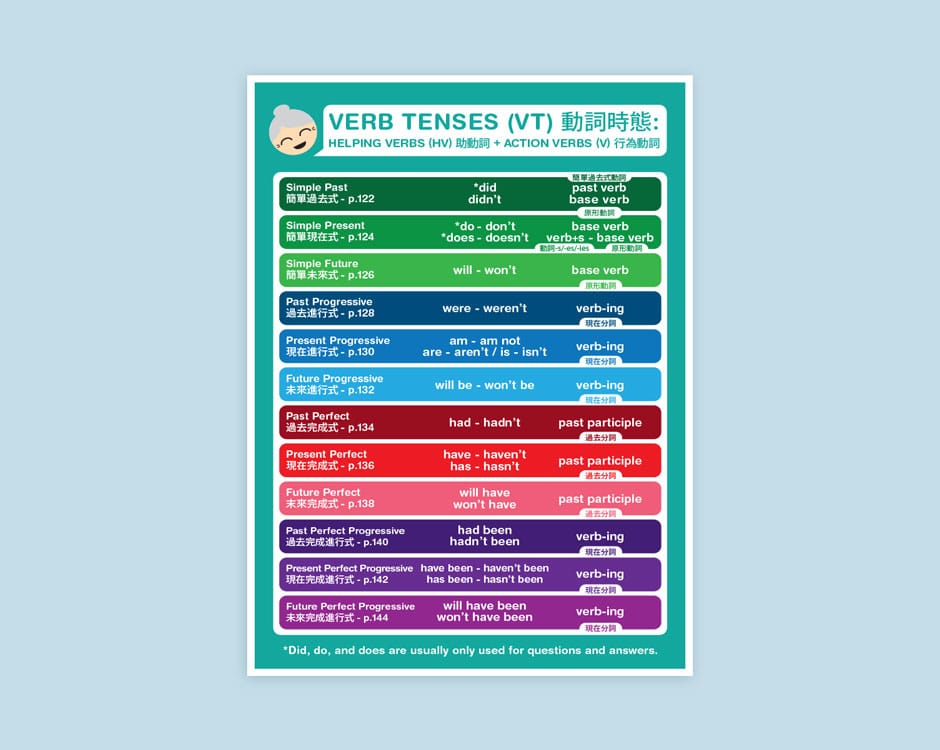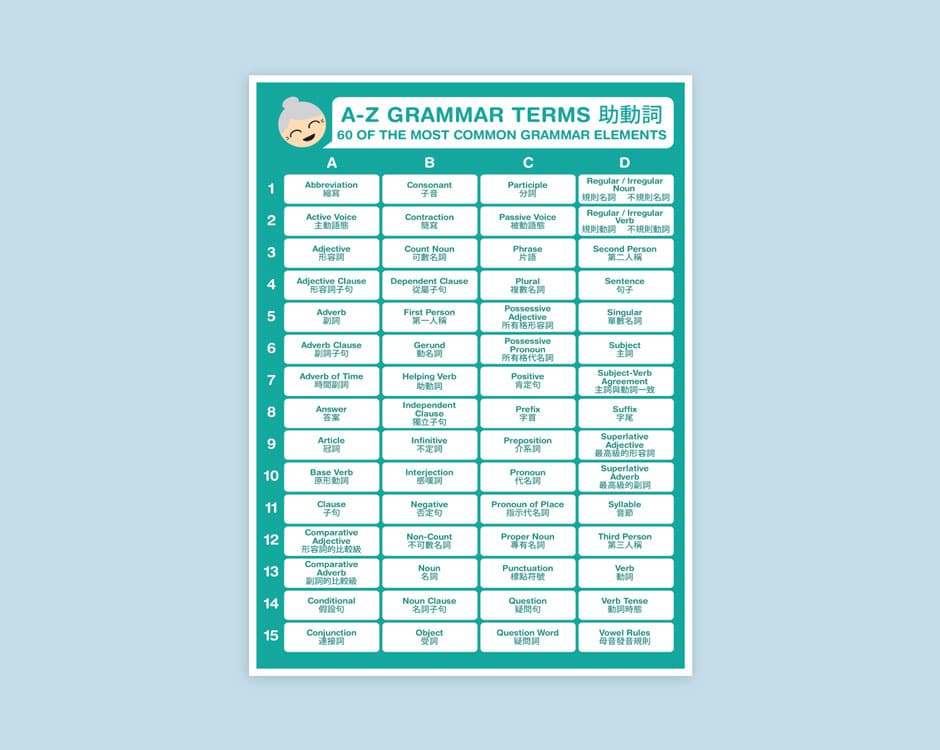 Integration of a potential website optimized for classroom usage was also proposed. It was to feature audio recordings, short quizzes with leader boards, and interactive review activities. Though the concept was a bit too extensive for the school's purposes, it may see implementation some day and has been live archived.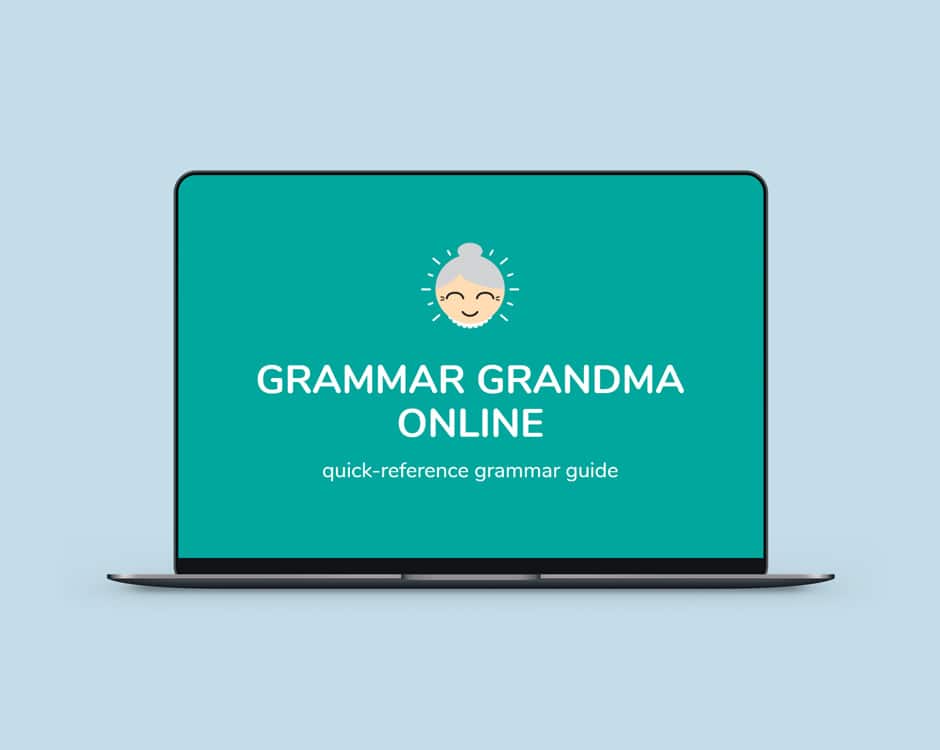 The inclusion of Grammar Grandma into our curriculum has saved our students and staff so much time and energy. It's a fantastic resource for teachers at any level and really helps solidify concepts that are never easy to grasp.

Kevin Quinn
Founder, Schoolhouse Language Center